Much like a Governing Body, the Academy Council's role is to ensure your children learn in a safe environment and to the maximum of their ability.  The Wallscourt Farm Academy council typically meets once a term.  There is a standard agenda for each meeting which includes reviewing data on quality of teaching and learning, progress, school budget, attendance, behaviour and safety.  We have also helped to feedback on numerous policies and procedures.
Through 'Learning walks' we have been able to see firsthand what happens during the school day and see the children's learning in action.  Each learning walk is focused on a specific area (eg. Mathematics, reading) and it really helps to bring alive what is actually going on during the day, rather than just reviewing reports and statistics.
We have attended Cabot Learning Federation board meetings to understand the Federation's overall strategy, achievement and performance and discuss Council roles and responsibilities with council members from other Schools.  The CLF have also provided a training programme which has helped in developing a better understanding of our roles on the academy council, what we should expect to understand and how we should be supporting/challenging the Leadership team.
The Chair of the Academy Council is Michael Small – Michael can be contacted by emailing the Clerk to the Academy Council, Charlotte Seavill by emailing [email protected] Please mark your email subject line with FAO Chair of Academy Council.
MICHAEL SMALL – CHAIR OF ACADEMY COUNCIL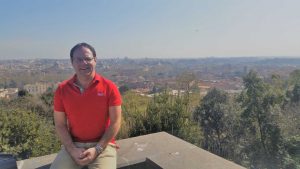 I have worked in education for the last 15 years in a number of different roles; from delivering NVQs to young people not in mainstream education through to teaching adults literacy, numeracy and key skills.  I have also been a Scout leader for the past 8 years and taught martial arts to all students aged between 4 and 60 for 5 years.
Through working at UWE, a sponsor of the Cabot Learning Federation, I was asked to join Wallscourt Farm Academy in 2017 as a councillor.  The school's enquiry based approach and idea of lifelong learning really resonated with me and I happily accepted.  I am now the Chair of Academy Council, safeguarding lead, and a council member of Evergreen Primary Academy. 
Vacancy – SPONSOR COUNCILLOR
LINDA TANNER – SPONSOR COUNCILLOR
Linda is a journalist and a communications consultant.  She was education correspondent for the Bristol Post from 2005 – 2012 and covered the early years of the formation of the CLF.  She became founding chair of Wallscourt Farm Academy Council in 2013 and continues to serve on the council.  She was also a local authority primary school governor from 1997 – 2009. 
Linda provides advice and support to schools and other education clients both independently and through Local Voice Network as well as reporting and editing for the Voice series of news magazines in Bristol and writing and commenting on education issues.  She is married with three adult daughters."
PHIL WALKER – SPONSOR COUNCILLOR
Phil Walker is a local resident, parent, and member of the Academy Council.  He is a Chartered account and Chief Executive of Pennant International Group Plc with significant finance, commercial and governance experience.  In his role Phil looks to bring the benefit of his skills to support Wallscourt Farm Academy in the delivery of its vision.  
 He joined the Academy Council in 2014 and also supports the school with the management of the community facilities.  He is married with two children. 
Record of attendance at meetings and our register of pecuniary interests can be found below.
NATHAN LEIGH – SPONSOR COUNCILLOR
Children in Care & Looked After Children Link
TREVOR JONES – LOCAL AUTHORITY REP
Health & Safety Link
JENNY BODNARCHUK – PARENT COUNCILLOR
SEND, Mental Health & Wellbeing Link
DEE MASON – PARENT COUNCILLOR
Dee is a local resident and has 2 daughters currently attending Wallscourt Farm Academy. Dee moved to the South West in 2002 when she came to study Physics at bath University, and settled in Cheswick in 2014, where she's enjoyed becoming part of the community. She is an accountancy fellow (FCCA) and currently works as part of the Payments Leadership team within a large Building Society, where she also takes on wellbeing and social investment responsibilities. Dee is passionate about education – having previously worked as a Science and Engineering Ambassador in schools and, more recently, volunteered as a teaching assistant within adult classes for GCSE maths. Outside work Dee plays an active part in a local amateur dramatics society and enjoys running, arts and crafts, reading and gardening.
EMMA MONTMASSON – SUPPORT STAFF COUNCILLOR
Hi, I'm Emma Montmasson the Teaching Partner for Willow Home Zone. I am the support staff representative. I have been at WFA for 4 years and can't imagine working in any different setting. I am passionate about WFA being 'the best party in town' and aim to give the learners as much joy filled learning as possible. World Book Day is without doubt my FAVOURITE time of year.
Outside of school, I am an aerialist and love performing at dance schools and festivals and spending time with my family.
LUCY SALMON – STUDENT ADVOCATE
I am a Year 1 class teacher and have been at WFA for 3 Years, I am part of the Arts team and my focus is creative writing. I really enjoy running a poetry club and this year organized WFA's  first poetry slam. I have a real interest in pupil voice and authorship, and focused my masters research project on the development of children's authorship, where I looked at the impact of using children's writing preferences on their outcomes.
I enjoy running and painting.
HELEN REA – STAFF COUNCILLOR
Helen Rea was appointed as the Teacher Councillor for Wallscourt Farm Academy Council in July 2018. She started at Wallscourt Farm Academy in September 2017 as a Specialist Music and PPA cover teacher. She has a 1st class degree in Music and Performance, specialising in Brass. Helen is passionate about the importance of music education and has already inspired many children at WFA; a choir of over 40 children, a brass ensemble, guitar lessons and ukulele have all been established. These numbers are increasing as the school grows. In February 2018 Helen took on a temporary role as Class Teacher. In September 2018 she returned to her PPA role and in July 2019 was appointed as the Upper Key Stage two lead teacher. Most recently, Helen has been appointed as Assistant Principal (Interim) at Wallscourt Farm Academy. Helen has been teaching for 14 years and prior to joining Wallscourt Farm she worked in four other Primary schools in Lincolnshire, Hampshire and Bristol. Helen is closely associated with the local community and her two children attend the school.